Description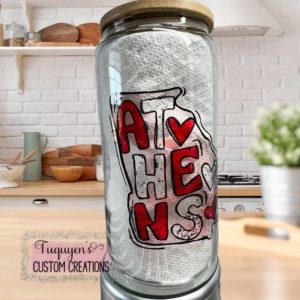 We're paying tribute to the best college town in America with this beautiful glass jar tumbler! This beautiful glass tumbler features a design of the word "Athens" inside the shape of the state of Georgia.
You may choose from 12 oz. and 16 oz. sizes and from either clear or frosted glass. Each order comes with a bamboo lid and plastic straw.
NOTE: Glass is shown in the photo with a paper towel inside to better show the design.